Posts Tagged 'Alex Thompson'
Doyle Sailmakers is enjoying the down to the wire pace of this years 2017 Vendée Globe unfolding this week. With UK sailor, Alex Thomson, on board HUGO Boss, and Armel LeCléac'h just 42.2 nautical miles ahead, we have seen seamanship, racing skills, and the sheer skills of both sailors. In the case of Alex Thomson, it's been an absolute pleasure to work with Alex Thomson Racing through the Vendée Globe campaign.
"There is lots of talk about different foils we have on Hugo Boss but as always the speed edge we have does not come from one place and the other place where we are completely different to the other IMOCA 60's is our sails, which obviously play a huge part in this race." says Thomson, speaking from on board Hugo Boss. "The number of sails we can carry is limited to nine and they have to be light enough to be used single-handed and strong enough to survive the world's toughest yacht race, so it's a tough challenge for sail designers. The design team at Doyle Sails put in a huge amount of effort in the last two years to help us come up with the right suit of sails for Hugo Boss; the Stratis product lends itself brilliantly and I would be very surprised if anyone has anything as light and as durable as we have. It just goes to show that if you want something different, something fast, if you want an edge, it is best to not follow the crowd."
Thomson has not only shown that his sail inventory has kept him very much in the hunt for first to finish, but Thomson has just set a new solo 24 hour distance record!! Sailing an incredible 536.81 nautical miles in 24 hours, Alex has beaten Francois Gabart's previous world distance record of 534.48 in the Vendée Globe.
Doyle Sailmakers is proud to be rooting for all of the incredible sailors in the Vendée Globe, but in particular we must tip our hats to the talented Alex Thomson.
When asked what he thought Alex's secret was, Robbie Doyle's response was, "If anyone saw Alex's video of a couple of days ago, they saw his secret: absolute calm. This was just hours before he went on to set the world 24 hour record for solo sailing of 536.81 nm! I had the privilege to participate in some sail and boat testing with Alex when he was in Newport. Even though he was still working out the kinks, our speed edge was obvious.  At the end of the day he asked, "Any suggestions?" As one who is not reticent to respond to such queries, all I could say was,  "Perfect what you have, and hold it together." Even with a broken foil, he has more than held it together. It is going to be an exciting and challenging race to the finish. Regardless of who wins, both Alex and Armel have set a new standard for not only solo sailing, but monohull sailing itself."
When Alex Thomson made the decision to use Doyle Sails for his third Vendée Globe attempt, he bucked the trend of the pack as the only Doyle skipper in the fleet. It was a decision that Thomson and his team believe paid dividends in his race. "At times I was surprised by the performance of the boat and my ability to keep up with the newer generation boats and I put a lot of my pace down to the sail design program run by Richard Bouzaid at Doyle Sails NZ," said Thomson, after finishing the race.
Thomson won a podium position with third place after a race time of 80 days 19 hours 23 minutes and 43 seconds. With that result he also became the fastest Briton to sail a monohull around the world, trumping the previous records of Dame Ellen MacArthur and Mike Golding. His performance was exceptional, staying part of the leading group throughout the race despite racing in an old-generation design.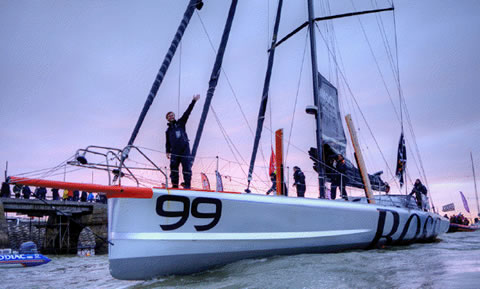 Credit: Christophe Launay | www.sealaunay.com
Hugo Boss was powered by a full inventory of Doyle sails, produced by the New Zealand loft and designed by Richard Bouzaid, Head of Design at Doyle Sails NZ. Almost all the sails were made from Stratis laminates, using light weight taffeta and carbon and technora blends, rather than Kevlar or spectra fibres that are more commonly used on these types of sails. "The sail program is a critical part of any sailing campaign but no other race demands performance and reliability over a 28,000Nm race track," said Thomson.
Chris McMaster, Managing Director of Doyle Sails NZ, and Bouzaid worked closely with Alex and his team throughout race preparations and through the race itself. "The relationship with Alex Thomson Racing has been longstanding and everything we have done over the last five years has been working towards this goal," said Bouzaid. "We were constantly working to develop innovative sails that would give Alex an edge over his competition." Prior to the race Bouzaid spent significant time sailing on board Hugo Boss with Thomson, including undertaking a Transatlantic crossing and sailing from the UK to the Mediterranean. "All this helped give us a deeper understanding of how hard it is to sail these boats, and the kind of sails they need to help them be sailed single handed," said Bouzaid.
"When we started this project together, Doyle made it clear that they wanted to do it properly and gain the right experience before the main event," said Thomson. "Together we built seven mainsails, over 20 upwind jibs and more than 30 code sails in the quest to find the right blend of material, weight, performance and reliability.  We did not always get it right but we were always committed to finding the limitations, defining the boundaries and developing from there. We were also able to benefit from Doyle's investment in Sanya's Volvo 70 program and Mike Sanderson's experience in the IMOCA and Volvo world."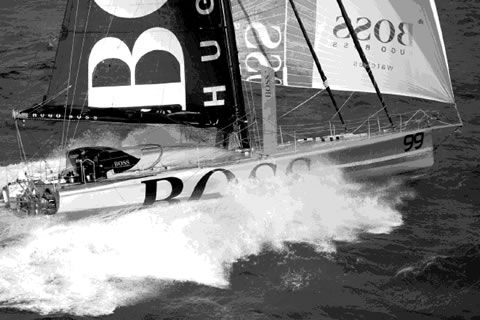 Credit: Christophe Launay | www.sealaunay.com
"We are looking forward to continuing working with Alex Thomson Racing," said Bouzaid. "We have lots of new ideas to move forwards with and the team are great to work with in that respect. They are always open to innovation and new ideas." Thomson too is looking to the future. "The great thing is we are not stopping here, there is always more we can do and I am looking forward to debriefing with Doyle Sails NZ and refining the product further so that all of Doyle's customers can benefit from the investment we have made. My sincere thanks to everyone at Doyle for their commitment to our project and helping me attain third place in the world's toughest sporting event," Thomson concluded.
To find out how Doyle Sails can help with your next challenge, contact your local loft.