Posts Tagged 'Richard Bouzaid'
In the fastest Vendee Globe in history, after 74 days at sea Alex Thomson on Hugo Boss has taken out second place, gaining a coveted podium space and finishing just 16 hours behind race winner Armel Le Cléac'h on Banque Populaire. This is Thomson's second consecutive podium finish in the Vendee Globe, considered the toughest sailing race on earth, after finishing third in the 2012-2013 edition.
Doyle Sails is extremely proud of their involvement in Thomson's campaign as sail supplier to Hugo Boss. "We have lived and breathed every minute of this race and we think Alex has done an incredible job," says Mike Sanderson, CEO of Doyle Sails New Zealand. "We're so proud of what Alex has done in so many ways and are pleased to have played our part in helping him achieve this amazing result."
Arriving into Les Sables-d'Olonne after completing the race in 74 days 19 hours 35 minutes and 15 seconds, Thomson provided a nailbiting race throughout with highs and lows and first place all to play for right until the final stages. Having lead the race for most of the early stages Thomson suffered a huge blow when he damaged his starboard foil on the 19 November 2016, limiting the boat's performance when on the port tack and costing him an approximate 20% of the boat's speed. Despite this setback he continued to push, keeping constant pressure on Le Cléac'h until the very end, maintaining a formidable drag race over the final week and finishing just hours apart – an incredible feat in a race spanning over two months at sea.
During his 74-day race Thomson broke a number of significant records along the way including the world record for greatest distance sailed solo in 24 hours, with an average speed of 22.4knots, made all the more impressive as this record was set in the final few days of the race. Thomson also set two new race records in one day, for the fastest time to reach the Cape of Good Hope, completing this stretch in 17 days 22 hours and 58 minutes (5 days and 48 minutes faster than the previous record) and for the fastest time from the Equator to the Cape of Good Hope, passing in 8 days, 15 hours and 56 minutes (previous record 12 days, 2 hours and 40 minutes). Thomson is now also the fastest Briton to circumnavigate the globe on a monohull, beating his own record set in 2012/2013.
Throughout the race Thomson has paid tribute to his sail inventory, citing it as a key influence to his performance during the circumnavigation and one of his main advantages over the other competitors. "Aside from our foils the one place where we are completely different to the other IMOCA 60's is our sails, which obviously play a huge part in this race," says Thomson. "The Stratis product lends itself brilliantly and I would be very surprised if anyone has anything as light and as durable as we have; if you want something different, something fast, if you want an edge, it is best not follow the crowd."
Hugo Boss carries a full suit of Doyle Stratis ICE sails as part of a long term relationship between Doyle Sails New Zealand and Alex Thomson Racing. Thomson and his team worked closely over several years with Richard Bouzaid, Head of Design at Doyle Sails New Zealand, to develop the inventory carried by Hugo Boss. Doyle's involvement included extensive sail design team input during the design phase of both the boat and aero package as well as significant on-the-ground support during the construction and sail trial phase of Hugo Boss, and Thomson believes the time invested has paid significant dividends in the result of the race. "The sail plan that Richard developed for us has made a big difference and is the reason I was able to stay at the front of this race with the others after we lost the foil, says Thomson. "I appreciate all the work the team has done; Richard cares, he seriously cares, about this campaign and he put a lot of his time and effort into it and we wouldn't be where we are without him."
"It's hard to say enough really of what Alex – and all the sailors in this race – have achieved; it's been a privilege to work with him and his team over these two race cycles and I'm excited for the future," says Bouzaid. "After careful consideration of the new IMOCA 60 rule we developed a different sail combination than presumed, different to the other teams, and that in combination with the whole approach we've taken together over the last eight years, has helped achieve this great result. The cool thing is that this is just the beginning."
As well as the sail configuration itself Thomson is full of praise for the durability and reliability of his Doyle sails. "In terms of performance, even after nearly 75 days at sea in these hugely challenging conditions my sails are still like they are brand new," he says "The reliability of the product is just brilliant and I think that's where Doyle really are different to everyone else and it's a big reason why we choose to work with Doyle – it's the service, product and the relationships and the fact the team really cares and brings significant added value to the campaign."
With the first of the competitors now safely back in port the race continues. Hungarian sailor Nandor Fa on Spirit of Hungary, also powered by a Doyle STRATIS inventory, is currently lying in eighth place, over 500nm ahead of his nearest rival, in another testament to the durability and performance of a Doyle inventory. "We're so pleased to have worked with both Alex and Nandor and hope to keep showing that when it comes to high performance sails there is an alternative choice," says Sanderson.
Success for Doyle-powered Hugo Boss and Neutrogena who have just taken first and second place in the IMOCA 60 New York – Barcelona Race. The four competing teams – Hugo Boss, Neutrogena, Safran and Gaes – departed New York on 1 June to undertake the 3,700 mile course to Barcelona. Conditions were challenging and racing was close and competitive with leader Safran being forced to retire after skipper Marc Guillemot was injured.
Hugo Boss has recently received a full new set of Stratis ICE sails, designed by Richard Bouzaid. With Alex Thomson away on paternity leave, Hugo Boss was co-skippered by Pepe Ribes and Ryan Breymaier, who completed their race in a time of 14 days 2 hours 44 minutes and 30 seconds. "The whole race was great, mostly excellent conditions for sure across the Atlantic, you can't really say champagne sailing when you have to wear your waterproofs but it was as close as perfect for most of the way. The toughest time was the last 3 days, I always find the lighter airs the toughest," said Breymaier. "There was never a dull moment for sure, a very intense race so it feels great to win. Until the Med the first 3 boats were incredibly close," said Ribes
Neutrogena, skippered by Guillermo Altadill with Jose Munoz, gave them a close run, eventually finishing in second place with a time of 14 days 6 hours 55 mins 17 seconds. "I have had very close finished with short crews in IMOCA 60 in short legs, but in a 3,700 mile long leg being so close until the finish… that's a first," said Altadill.
"This was a great result for both teams as they prepare for the Barcelona World race at the end of the year," said Richard Bouzaid, Head of Design at Doyle Sails NZ.
Ragamuffin 90 and Team Ragamuffin crew, recently took line honors and set a new course record in the 2013 Hong Kong to Vietnam race. Averaging approximately 15.2kts for the course, she beat the existing record of Skandia Wild Thing by four minutes. It should be noted that the start lines were different for the two yachts. This year the start was off the royal Hong Kong Yacht Club. This added approx. 17nm of upwind work to the course length. Ragamuffin 90 was also 3mtrs shorter!

A key member of the crew, Mark Fullerton, coordinates the sail programs for Team Ragamuffin. After a successful Transpac  Race for Ragamuffin 100, taking line honors, Mark worked on a sail plan for the 90ft boat with David Witt, (skipper) and Richard Bouzaid, design coordinator for Doyle Sails. They developed an Asian focused inventory, where the 90 will do most of her sailing. This included going to a bigger square top mainsail, a new R2, R3, A2, AP Jib and genoa staysail. All were made from Doyle's proprietary Stratis laminated sail material.
Mark coordinated the design and manufacturing of the sails from the Doyle Qingdao loft. The loft has now successfully completed the sails for the Ragamuffin 90 & 100. All sails have gone on and exceeded all expectations with the accuracy of fit, detail and performance. The crew contained a couple of Volvo 70 sailors and they were nothing but complimentary of the sails on the boat. Even some of the custom sail hardware, clew and reef rings, were manufactured in china. All were tested and checked by Mark before the sail was finished. It's a testament to the high standard that Doyle Qingdao has reached over a short time that has removed much of the stigma of "made in China". More custom hardware is in the works after people have seen the quality of these sails.
The race itself was an exciting trip. After beating out of Hong Kong Harbour, sheets were eased and the  yacht proceeded with a full main, R2 and genoa staysail. Constantly averaging over 20knots boat speed with a top speed of 33 knots!  The rest of the race saw much use of the new Stratis A2 and the Straits R2. There were no issues with the sails throughout the trip. Syd Fischer, who owns the team Ragamuffin yachts, was very happy with the sails and professional attitude of Doyle Sails. He has now commissioned Doyle Qingdao to work on upgrading the inventory for the Ragamuffin 100 for this year's Sydney to Hobart Yacht Race.
The sail project was managed by Mark Fullerton, design with Richard Bouzaid and engineering. Production was overseen by John Hearne and our floor manager Todd Cunningham.
Mark and John were both in the crew.
NB-The original record set by Skandia Wild Thing, also had Mark Fullerton on board as well as sail co-coordinator.  It was also a full Doyle Inventory.
The 2013 Transpacfic Race proved to be another successful race for Doyle Sails, with outstanding results for the Doyle-powered yachts.  63' Invisible Hand took first place in Division 1, Ragamuffin 100 took line honors and third place in Division 1, while second place in Division 1 went to Wizard, which had a new jib from Doyle on board for the race. Other Doyle success included a win for Farr 40 Foil in Division 5.
A Win In Division 1 for Invisible Hand
Frank Slootman's R/P 63 Invisible Hand, skippered by Greg Nelsen, sailed to a convincing win in Division 1, despite being the smallest boat competing in the division. She won with an elapsed time of 188:49:51 (corrected time of 149:50:36),  handily correcting out over Elliott 100 Ragamuffin, the R/P 74 Wizard and canting keeled record setter Maserati (Volvo 70).
Invisible Hand had a new set of Doyle Stratis sails on board for the race, supplied by Bill Colombo of Doyle San Francisco. Based on a performance optimization program from Reichel-Pugh, Invisible Hand was fitted with a new Stratis Carbon/Technora mainsail that had a larger square-top as well as a slightly reduced foot, as well as new headsails. Doyle also built both a new A2 and A2.5 spinnakers, designed by Richard Bouzaid, Doyle's Head Designer. "The A2 was increased about 8 per cent and that paid huge dividends in this predominately light Transpac," said Nelsen in a post-race interview with Pressure Drop.
"Doyle sails were instrumental in the overall retooling of our boat for optimal west coast racing," said Frank Slootman, owner of Invisible Hand. "The sails are lighter, stronger and much more powerful than what we had previously. Off the wind, our boat really came alive with the new spinnakers. Doyle is a core partner of our program and played a key role in our Transpac win."
Ragamuffin 100 Fastest Monohull Across Line
Syd Fischer's Ragamuffin 100 also went into the race armed with a full new Doyle Stratis inventory that included a new Stratis main, jib, genoa staysail and an A2 spinnaker. Design work was by Richard Bouzaid, with the sails finished by Mark Fullerton of Doyle China. Her overall elapsed time of 152:17:26, with an average speed over the course of 14.6 knots, won her the Merlin Trophy as the fastest monohull to finish.
David Witt, Ragamuffin sailing master, praised the new sails, saying: "Using Stratis on our 100 had a major performance increase that was unexpected. The large weight reduction in working gear, combined with larger and better shaped sails had the boat sailing well above its polars, numbers which we had not previously seen on the 100. We will certainly now be using Stratis on all our Ragamuffin yachts."
"It's great to be involved with the boat again, having designed sails for her back when she was Maximus," said Bouzaid. "The expertise gained from the work we have done with the Volvo 70 Sanya and with Leopard 3 made it possible to get the result and the performance gains we achieved with Ragamuffin straight off the bat."
Ragamuffin 100 is now in transit on her way back to Australia where she'll compete in the Sydney-Hobart race.
When Alex Thomson made the decision to use Doyle Sails for his third Vendée Globe attempt, he bucked the trend of the pack as the only Doyle skipper in the fleet. It was a decision that Thomson and his team believe paid dividends in his race. "At times I was surprised by the performance of the boat and my ability to keep up with the newer generation boats and I put a lot of my pace down to the sail design program run by Richard Bouzaid at Doyle Sails NZ," said Thomson, after finishing the race.
Thomson won a podium position with third place after a race time of 80 days 19 hours 23 minutes and 43 seconds. With that result he also became the fastest Briton to sail a monohull around the world, trumping the previous records of Dame Ellen MacArthur and Mike Golding. His performance was exceptional, staying part of the leading group throughout the race despite racing in an old-generation design.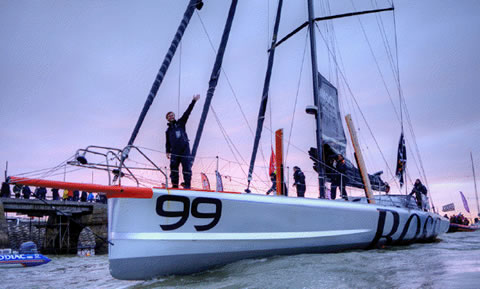 Credit: Christophe Launay | www.sealaunay.com
Hugo Boss was powered by a full inventory of Doyle sails, produced by the New Zealand loft and designed by Richard Bouzaid, Head of Design at Doyle Sails NZ. Almost all the sails were made from Stratis laminates, using light weight taffeta and carbon and technora blends, rather than Kevlar or spectra fibres that are more commonly used on these types of sails. "The sail program is a critical part of any sailing campaign but no other race demands performance and reliability over a 28,000Nm race track," said Thomson.
Chris McMaster, Managing Director of Doyle Sails NZ, and Bouzaid worked closely with Alex and his team throughout race preparations and through the race itself. "The relationship with Alex Thomson Racing has been longstanding and everything we have done over the last five years has been working towards this goal," said Bouzaid. "We were constantly working to develop innovative sails that would give Alex an edge over his competition." Prior to the race Bouzaid spent significant time sailing on board Hugo Boss with Thomson, including undertaking a Transatlantic crossing and sailing from the UK to the Mediterranean. "All this helped give us a deeper understanding of how hard it is to sail these boats, and the kind of sails they need to help them be sailed single handed," said Bouzaid.
"When we started this project together, Doyle made it clear that they wanted to do it properly and gain the right experience before the main event," said Thomson. "Together we built seven mainsails, over 20 upwind jibs and more than 30 code sails in the quest to find the right blend of material, weight, performance and reliability.  We did not always get it right but we were always committed to finding the limitations, defining the boundaries and developing from there. We were also able to benefit from Doyle's investment in Sanya's Volvo 70 program and Mike Sanderson's experience in the IMOCA and Volvo world."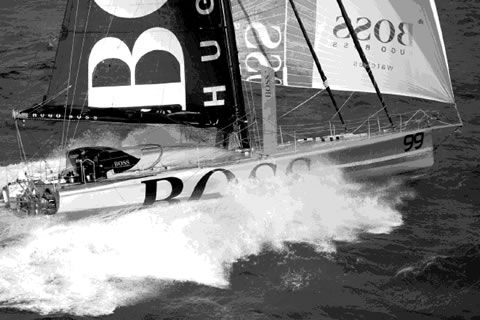 Credit: Christophe Launay | www.sealaunay.com
"We are looking forward to continuing working with Alex Thomson Racing," said Bouzaid. "We have lots of new ideas to move forwards with and the team are great to work with in that respect. They are always open to innovation and new ideas." Thomson too is looking to the future. "The great thing is we are not stopping here, there is always more we can do and I am looking forward to debriefing with Doyle Sails NZ and refining the product further so that all of Doyle's customers can benefit from the investment we have made. My sincere thanks to everyone at Doyle for their commitment to our project and helping me attain third place in the world's toughest sporting event," Thomson concluded.
To find out how Doyle Sails can help with your next challenge, contact your local loft.
Living Doll
.
Living Doll
recently took delivery of a full inshore racing inventory of Doyle Stratis GPx sails.
Michael gave us some feedback after the boats first regatta with the new Doyle sails:
"After deciding to invest in a full Doyle New Zealand inventory for the Living Doll, no one could be happier. The work spent in the design phase was time well spent, all the sails were used right out of the bag, and they all fitted perfectly.
"The performance gain in the boat was night and day from previous regattas. Having Richard Bouzaid, and Mike Sanderson sailing with us not only lifted the intensity of the sailing on board, but also gave everyone a huge insight into the level of detail that goes into these sails, trim and rigs. The sail shape analysis that was done throughout the regatta by Richard after sailing each day, comparing race trim photos to the designed sail shapes, gave the team a good base to discuss modes, trim, areas to improve etc.
"Thanks to the team at Doyle."
One of Australia's highest profile and most successful racing campaigns is Michael Hiatt's Farr 55
Doyle Sailmakers is proud to again sponsor the St Barths Bucket Regatta to be held March 22-25, 2012. The wait list to participate in the regatta is a true testament of the superb job done by the Bucket organizers, superyacht owners and crew elevating superyacht racing to an extraordinary level of fun and excitement.
Numerous superyachts with Doyle sails will be taking part in the 2012 St Barths Bucket including: Andromeda La Dea, Athos, Axia, Baracuda, Bliss, Blue Too, Fidelis, Ganesha, Helios II, Koo, Moonbird, P2, Paraiso, Parsifal III, Salperton IV, Symmetry and Zenji.
Doyle Sailmakers' continued success in the superyacht market is the result of design and engineering expertise, reliability and after sales service. Our network of over 80 lofts worldwide allows us to provide local service worldwide.
Doyle Sailmakers will be well represented in St Barths by Robbie Doyle and numerous representatives from all over the world including: John Baxter, Richard Bouzaid, Matt Bridge, Glenn Cook, Quinny Houry, Richard Hulston, Phill Maxwell, Maria Francesca Natoli, Andrew Schneider, Brendan Simons, Jud Smith, Francesco Valenza, and Guy Waddilove.