Posts Tagged 'Stratis'
George Sakellaris and the team aboard the Reichel/Pugh mini-maxi Shockwave crossed the finish line off Bermuda's St. David's Lighthouse Monday morning at 5:34 race time EDT (6:34AM local time). Her elapsed time was 63:04:11. The close contest between Shockwave and her rival Bella Mente, Hap Fauth's 72 foot Judel/Vrolijk mini-maxi, was a near repeat of the 2012 race, where both boats smashed the course record and finished with Bella Mente a mere 3 minutes ahead. This year, Shockwave led by seven minutes, after the two had battled head to head within sight of each almost continuously for over 635 miles. Although the boat for boat racing was close, Shockwave won comfortably on corrected time besting her rival Bella Mente by 1 hr and 44 minutes in ORR and similar margin in IRC.
As with the 2012 Race, Robbie Doyle sailed as the "stratitician," working with the navigator, Andrea Visintini, the Tactician, Stu Bannatyne, skipper George Sakellaris and overseeing the sail program.
Doyle said, "There was a constant analysis and dialog onboard as the position of the Stream was fluid, and the weather pattern was also shifting. We had to hunt to find the (Gulf) Stream… we never found the 4 knot real road to Bermuda. It had broken up before we got there. Forecasters had predicted it might, but they suggested we might get there before it would start to dismember. The Stream was really breaking up pretty quick."
"We tried some new ideas and ways to optimize the boat for the ORR rule" explained Doyle. "Bella Mente is a more powerful reaching boat than Shockwave so in order to defend our 2012 victory we felt we needed to improve our rating as we did not feel we could beat her in a reaching drag race which the Bermuda Race can often be. After a detailed weather analysis of the past 10 races over a 20 year period we made the decision to switch to a fractional spinnaker hoist. We designed and built a new full size Fractional Code 0 (labeled Super-FRO by the crew) to complement our existing smaller FRO. We only carried one free-flying spinnaker and then two Fractional Code 0′s."   Both FROs were set on top down-furlers for easy sail handling and crossovers. The combination proved successful, as the powerful "Super FRO" carried the boat through some crucial transitions.  "Surprisingly its best moment came when VMG running in 8 knots TWS into head seas with Bella Mente right on our tail. Even though she was carrying a full size mast head spinnaker we were able to open up on her with the more stable Super FRO."
"We had one day of practice with the Super FRO, during which we saw what a powerful weapon it could be, but also how much it really loaded up the sprit. We had Doyle's CFD team working with Reichel/Pugh's office to re-engineer the sprit to handle the sail, and the guys were reinforcing the sprit until 3am the morning of the start!  A total team effort to pull off this incredible result again."
The win adds to Shockwave's growing list of recent victories, highlighted by their division win in the 2012 Newport-Bermuda Race, the 2013 Montego Bay, and the 2014 RORC Caribbean 600 Race. Originally launched in 2008 as Alpha Romero 3, Shockwave has proven to be a dominant force in the last 3 years.  Doyle Sailmakers has been intimately involved in the boats resurgence, helping optimize not only the sail program, but also the mast and keel for a full aero and hydrodynamic package.
For more information on the Newport-Bermuda Race, please visit here.
Results from this years race can be found here.
Doyle Sailmakers is proud to announce that Stratis ICE has been nominated by the jury for the DAME Awards 2013.  Overall winners are announced on the first morning of METS (Marine Equipment Trade Show), November 19th. Doyle Sailmakers will have a team  exhibiting in the Superyacht Pavilion at Stand 10.715 , with samples of ICE as well as other materials from their product range.
The DAME is a prestigious competition for new marine equipment and accessories that is awarded based on overall design, build quality, functionality, and use of materials. To win the DAME is the ultimate accolade for companies and innovators, and all the nominations for the award are seen as trendsetters for the next generation of product development.
Stratis ICE is an entirely new and unique Ultra High Molecular Weight Polyethylene (UHMWPE) sail fiber that is a game-changing product for the sailing market. In summary it is lighter, more durable and stronger than any other sail fiber available.  ICE is unique in that it is the first truly new fiber to be introduced to sailmaking in recent years; other traditional advances in sail technology have simply been a new application of existing fibers.
ICE provides weight reductions and elongation numbers equivalent to a sail made with 100 per cent standard modulus carbon, but without the durability issues that come with high carbon content laminates.
This flat ribbon fiber was originally used by the US military and Doyle Sails has secured the marine rights to the product and spent 4 years developing special adhesives and application techniques to turn this extraordinary fiber into a durable sail material. The fiber is ideal for use in the sail market as it exhibits very low stretch and creep, yet is lightweight, highly durable, and resistant to UV and salt.
Results for ICE have shown the highest resistance to flex fatigue of any sail product, with ICE sails retaining their initial shape and speed longer than any other sail membrane. This allows the Doyle design team to engineer sails much closer to their work load, and avoid over-engineering them in anticipation of future flex fatigue. Overall this makes ICE the first realistic alternative to carbon in performance racing sails.
Doyle primarily developed ICE to improve performance of superyacht sails. As superyacht sails got heavier and with higher loads – especially on yachts over 50m in length – the corners of the sail and the actual sail laminate needed to be very thick and heavy in order to be able to take the load of the sail. Use of the flat ICE fiber makes sails lighter and thinner, avoiding the heavy contour and texture in the membrane and eliminating the thick corner laminate that results from traditional membrane sails.
Although ICE offers so many benefits, the challenge for the sailmaker is that it is extremely slippery fiber and therefore very complex and difficult to work with: after a long development process Doyle has mastered the production technique required to use it. Prior to undergoing the standard Stratis lamination and laying process (unique and award-winning in its own right) the fiber is treated to make it workable; Doyle had to develop special polymers with low melt points in order to be able to laminate the fiber.
To learn more about Stratis ICE, please visit here.
The 2013 edition of the Coastal Classic saw more than 160 yachts of all shapes and sizes line up for the 119nm race from Auckland to Russell. The race was hotly contested, particularly in Division 6 where visitors Team Australia were aiming to claim victory over title-holders Team Vodafone, who had taken line honors for three years previously. With the pair considered to be the fastest yachts in Australasia, it was all to play for.
It was a strong race for the Doyle powered boats with good performances in all divisions, including podium positions by handicap in six of the divisions. Team Australia took line honours with a time of eight hours and 15 minutes, nearly 40 minutes ahead of Team Vodafone, winning the Duke of Marlbourough Cup for the first boat to finish, and the Alexander Flynn Trophy for first multihull to finish. Omega 8, which features a full Doyle inventory, came first in Division 1 and was also the overall winner of the race. Both yachts were carrying Doyle's innovative new Stratis carbon ICE sails, as well as Stratis carbon technora mains, and the results speak for themselves.
As well as the overall successes, there were excellent divisional results. Division 2 saw third on the line and second place by handicap for Outrageous Fortune, which carries a partial Doyle inventory. In Division 3 R N B, with a full Doyle inventory, took first place (line and handicap), Division 4 saw first place (line and handicap) for No Worries, which has a partial Doyle inventory, and Division 7 first place on the line forCharleston, which also has a partial Doyle inventory.
Below we have race reports from Simon Kidd, of Doyle Sails, who was racing on overall winner Omega 8, and from Mike Sanderson, Head of Sales at Doyle Sails, who was racing with line winners Team Australia.
Omega 8 – overall winner and 1st place in Division 1
Race report by Simon Kidd
It was always going to be a great race for Omega upwind, with pressure and the breeze backing later in the day. We started well ahead of the starting gun with preparation on the boat, which is half the battle, dropping the rudder to service the bearing and undertaking several other small maintenance jobs. For the sail inventory we added a new Stratis ICE Code 2 headsail, which we carried from North Head up the coast, and also a new Stratis carbon technora mainsail.
With a large fleet off the line there was some urgency to set the Doyle A3 laminated gennaker and we made a nice jump on the other 40′s down to North Head. We had a good run up to Sail Rock with a long port tack and couple of short starboard tacks. Just after Sail Rock a squall came through and we ended up bareheaded for a couple of minutes before settling back into a slightly cracked jib top and then into the Code 0 which carried us through to the Cape Brett. The 40 fleet was locked together with Mojo, Power Play, Pretty Boy Floyd and Lawless all metres apart as we cleared the Brett.
Omega was in her element with an 150% overlapping headsail we laid pretty much through to the Black Rocks, having taken advantage of the incoming tide and then a long starboard tack through to Tapeka Point. A short tack and we laid up to the finish just as the breeze started to die, with the tide changing as we finished. Skipper and owner Scott McLaren was delighted with the result and very complementary of both the crew and also the Doyle sails that powered Omega to her win.
Team Australia – First place on the line, and third place by handicap in Division 6
Race report by Mike Sanderson
It's a long time since someone brought a boat all the way from Australia for the Coastal Classic and so when owner Sean Langman and his team made noises about bringing their very cool ORMA TrimaranTeam Australia over for the 2013 event it was pretty exciting news. Team Australia is, like local boat Team Vodafone, an ex French ORMA Class box rule boat, maximum length, maximum beam, maximum mast length and that's about it… they were developed for a combination of round the buoy Grand Prix events and single and double handed Trans-Atlantic racing. Until the creation of the AC 72 they were the most developed large multihull in the world.
Team Australia started their campaign by setting a new bench mark for the Trans-Tasman sailing record, crossing from Sydney to Auckland in 2 days 19 hours 2 mins 45 seconds. Their new record, now ratified by the World Speed Sailing Association, has set the bar very high for others to try and have a crack at. Once in Auckland, with the crew recovered from their Tasman ordeal, we set about getting her ready for the Coastal Classic. This entailed the guys removing all the offshore equipment and most excitingly the fitting of three new Doyle sails to compliment the new Mainsail we fitted late last year prior to their successful Sydney-Hobart record run. Ahead of the Coastal Classic Team Australia got a new Radial Stratis gennaker, and replaced both the primary headsails, the "Solent" and "Trinquette." These new sails were utilizing our very latest technology with both the Jibs being Stratis carbon ICE. All the sails went straight on and fitted like gloves and were "sweet as," to use the words of one of the crew.
Race day came around and I think I was the most excited person in Auckland, with the prospect of an upwind beat to Russell, knowing we had two brand new jibs in our arsenal.
The start went well, with Sean's years of skiff sailing paying good dividends. We won the race to North Head but soon after Team Vodafone got through us by just carrying bigger sails. Team Australia is less powerful then Vodafone and so we decided to go with the smaller Trinquette jib. During the reach to Kawau Island we struggled to hang on to them as their added power let them slip away. Around Kawau we cut the corner on them and were right back into it… we then exchanged a couple of tacks and with the wind forecast to go left, we protected that side and were starting to pay good dividends. Just as we were about to tack and clear ahead the $10 lashing that held the Solent Jib up snapped and we had the jib fall on the deck. There is no halyard for this sail, it gets hoisted on a Gennaker halyard and then lashed, so we had to change down to the Trinquette and set about to catch them up.
Whangarei Heads was always going to be an interesting landmark to get past in a Westerly breeze. We saw Vodafone go wide and so hit the beach. This paid off big time and while they were struggling offshore in light winds and headed breeze, we were smoking down the beach. From the time we got past them through to when we finally rounded Cape Brett I believe we were just quicker, as we reasonably quickly extended our lead out to nearly 40 minutes from there it was a blasting reach into the finish..
All in all it was a very satisfying win for Team Australia, we certainly had had our share of obstacles along the way! A big thanks to Sean and the Team Australia team for putting their faith in Doyle Stratis sails to power their amazing boat, and thanks also to our team for delivering. Let's hope Sean can bring the boat back next year to have a crack at defending our title!
Breakdown of leading results from Doyle-powered yachts
Division 1
Line Honours
V5 – third
Wired – fourth
Handicap
Omega 8 – first, and first overall for the Coastal Classic
O'Sinnerman* – third
Division 2
Line Honours
Outrageous Fortune* – third
Frenzy – fourth
Handicap
Outrageous Fortune* – second
Division 3
Line Honours
R N B – first
Handicap
R N B – first
Division 4
Line Honours
No Worries* – first
Wild Oats* – third
Handicap
No Worries* – first
Wild Oats* – second
Heaven N Hell* – third
Division 6
Line Honours
Team Australia – first
Handicap
Team Australia – third
Division 7
Line Honours
Charleston* – first
*Partial Doyle Inventory
Ragamuffin 90 and Team Ragamuffin crew, recently took line honors and set a new course record in the 2013 Hong Kong to Vietnam race. Averaging approximately 15.2kts for the course, she beat the existing record of Skandia Wild Thing by four minutes. It should be noted that the start lines were different for the two yachts. This year the start was off the royal Hong Kong Yacht Club. This added approx. 17nm of upwind work to the course length. Ragamuffin 90 was also 3mtrs shorter!

A key member of the crew, Mark Fullerton, coordinates the sail programs for Team Ragamuffin. After a successful Transpac  Race for Ragamuffin 100, taking line honors, Mark worked on a sail plan for the 90ft boat with David Witt, (skipper) and Richard Bouzaid, design coordinator for Doyle Sails. They developed an Asian focused inventory, where the 90 will do most of her sailing. This included going to a bigger square top mainsail, a new R2, R3, A2, AP Jib and genoa staysail. All were made from Doyle's proprietary Stratis laminated sail material.
Mark coordinated the design and manufacturing of the sails from the Doyle Qingdao loft. The loft has now successfully completed the sails for the Ragamuffin 90 & 100. All sails have gone on and exceeded all expectations with the accuracy of fit, detail and performance. The crew contained a couple of Volvo 70 sailors and they were nothing but complimentary of the sails on the boat. Even some of the custom sail hardware, clew and reef rings, were manufactured in china. All were tested and checked by Mark before the sail was finished. It's a testament to the high standard that Doyle Qingdao has reached over a short time that has removed much of the stigma of "made in China". More custom hardware is in the works after people have seen the quality of these sails.
The race itself was an exciting trip. After beating out of Hong Kong Harbour, sheets were eased and the  yacht proceeded with a full main, R2 and genoa staysail. Constantly averaging over 20knots boat speed with a top speed of 33 knots!  The rest of the race saw much use of the new Stratis A2 and the Straits R2. There were no issues with the sails throughout the trip. Syd Fischer, who owns the team Ragamuffin yachts, was very happy with the sails and professional attitude of Doyle Sails. He has now commissioned Doyle Qingdao to work on upgrading the inventory for the Ragamuffin 100 for this year's Sydney to Hobart Yacht Race.
The sail project was managed by Mark Fullerton, design with Richard Bouzaid and engineering. Production was overseen by John Hearne and our floor manager Todd Cunningham.
Mark and John were both in the crew.
NB-The original record set by Skandia Wild Thing, also had Mark Fullerton on board as well as sail co-coordinator.  It was also a full Doyle Inventory.
Sunday, September 8, 2013 (CHICAGO) – Chuck Bayer and his team on Grizzly put their hands on the 2013 Beneteau 36.7 North American trophy. While Grizzly was definitely a stand out at the event finishing 22 points ahead of Second Place finisher Peter and Dan Wright on Maggie Mae, the regatta was dominated by boats using Doyle Sails. In fact four different boats using Doyle Stratis sails won a total of 10 of the 11 races in conditions that ranged from 8-18 knots over the 4 days of racing.
Multiple Race winners include Peter and Dan Wright's Maggie Mae, Chuck Bayer's Grizzly, Ken Sharp's Patriot, and Charlie Wurtzbach and Mike Bird's FOG who won the last race. Many of the boats were using a combination of the Doyle Stratis ICE sails and our Standard Carbon/Technora Stratis Sails. Doyle sails were on well over ½ of the fleet.
Chuck Bayer, the skipper of Grizzly, said, "This feels great after 10 years of competing in these NACs. We've entered the last day with the lead three previous times and never pulled it out. It has been a long haul to get here but practice makes perfect," Bayer said. "I have to say that I brought the best crew possible and they were the reason for our success. We're all friends and they are just terrific. They do their jobs so well that I don't even have to talk when we are racing. I'm just thrilled to finally get this win."
Ken Sharp and his team on Patriot put on a brilliant performance on Day 3 to finish with a 1,3,1 on one of the shiftiest days of the regatta.
Charlie Wurtzbach and Mike Birds Doyle Stratis powered FOG won Race #11 and that moved them into the 5th place podium spot.
Over the last 10 years Doyle Sails has been the leader in the Beneteau 36.7 Class, and has the most extensive set up guide of any sailmaker. In addition Doyle continues to analyze the sails and develop them forward to insure our customers are getting the best sails and service possible.
To learn more about Doyle's Beneteau 36.7 Sails and Tuning Guide, please visit here.
The 2013 Transpacfic Race proved to be another successful race for Doyle Sails, with outstanding results for the Doyle-powered yachts.  63' Invisible Hand took first place in Division 1, Ragamuffin 100 took line honors and third place in Division 1, while second place in Division 1 went to Wizard, which had a new jib from Doyle on board for the race. Other Doyle success included a win for Farr 40 Foil in Division 5.
A Win In Division 1 for Invisible Hand
Frank Slootman's R/P 63 Invisible Hand, skippered by Greg Nelsen, sailed to a convincing win in Division 1, despite being the smallest boat competing in the division. She won with an elapsed time of 188:49:51 (corrected time of 149:50:36),  handily correcting out over Elliott 100 Ragamuffin, the R/P 74 Wizard and canting keeled record setter Maserati (Volvo 70).
Invisible Hand had a new set of Doyle Stratis sails on board for the race, supplied by Bill Colombo of Doyle San Francisco. Based on a performance optimization program from Reichel-Pugh, Invisible Hand was fitted with a new Stratis Carbon/Technora mainsail that had a larger square-top as well as a slightly reduced foot, as well as new headsails. Doyle also built both a new A2 and A2.5 spinnakers, designed by Richard Bouzaid, Doyle's Head Designer. "The A2 was increased about 8 per cent and that paid huge dividends in this predominately light Transpac," said Nelsen in a post-race interview with Pressure Drop.
"Doyle sails were instrumental in the overall retooling of our boat for optimal west coast racing," said Frank Slootman, owner of Invisible Hand. "The sails are lighter, stronger and much more powerful than what we had previously. Off the wind, our boat really came alive with the new spinnakers. Doyle is a core partner of our program and played a key role in our Transpac win."
Ragamuffin 100 Fastest Monohull Across Line
Syd Fischer's Ragamuffin 100 also went into the race armed with a full new Doyle Stratis inventory that included a new Stratis main, jib, genoa staysail and an A2 spinnaker. Design work was by Richard Bouzaid, with the sails finished by Mark Fullerton of Doyle China. Her overall elapsed time of 152:17:26, with an average speed over the course of 14.6 knots, won her the Merlin Trophy as the fastest monohull to finish.
David Witt, Ragamuffin sailing master, praised the new sails, saying: "Using Stratis on our 100 had a major performance increase that was unexpected. The large weight reduction in working gear, combined with larger and better shaped sails had the boat sailing well above its polars, numbers which we had not previously seen on the 100. We will certainly now be using Stratis on all our Ragamuffin yachts."
"It's great to be involved with the boat again, having designed sails for her back when she was Maximus," said Bouzaid. "The expertise gained from the work we have done with the Volvo 70 Sanya and with Leopard 3 made it possible to get the result and the performance gains we achieved with Ragamuffin straight off the bat."
Ragamuffin 100 is now in transit on her way back to Australia where she'll compete in the Sydney-Hobart race.
When Alex Thomson made the decision to use Doyle Sails for his third Vendée Globe attempt, he bucked the trend of the pack as the only Doyle skipper in the fleet. It was a decision that Thomson and his team believe paid dividends in his race. "At times I was surprised by the performance of the boat and my ability to keep up with the newer generation boats and I put a lot of my pace down to the sail design program run by Richard Bouzaid at Doyle Sails NZ," said Thomson, after finishing the race.
Thomson won a podium position with third place after a race time of 80 days 19 hours 23 minutes and 43 seconds. With that result he also became the fastest Briton to sail a monohull around the world, trumping the previous records of Dame Ellen MacArthur and Mike Golding. His performance was exceptional, staying part of the leading group throughout the race despite racing in an old-generation design.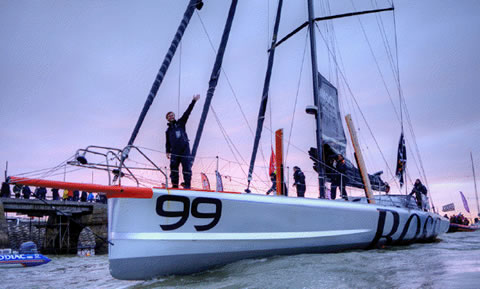 Credit: Christophe Launay | www.sealaunay.com
Hugo Boss was powered by a full inventory of Doyle sails, produced by the New Zealand loft and designed by Richard Bouzaid, Head of Design at Doyle Sails NZ. Almost all the sails were made from Stratis laminates, using light weight taffeta and carbon and technora blends, rather than Kevlar or spectra fibres that are more commonly used on these types of sails. "The sail program is a critical part of any sailing campaign but no other race demands performance and reliability over a 28,000Nm race track," said Thomson.
Chris McMaster, Managing Director of Doyle Sails NZ, and Bouzaid worked closely with Alex and his team throughout race preparations and through the race itself. "The relationship with Alex Thomson Racing has been longstanding and everything we have done over the last five years has been working towards this goal," said Bouzaid. "We were constantly working to develop innovative sails that would give Alex an edge over his competition." Prior to the race Bouzaid spent significant time sailing on board Hugo Boss with Thomson, including undertaking a Transatlantic crossing and sailing from the UK to the Mediterranean. "All this helped give us a deeper understanding of how hard it is to sail these boats, and the kind of sails they need to help them be sailed single handed," said Bouzaid.
"When we started this project together, Doyle made it clear that they wanted to do it properly and gain the right experience before the main event," said Thomson. "Together we built seven mainsails, over 20 upwind jibs and more than 30 code sails in the quest to find the right blend of material, weight, performance and reliability.  We did not always get it right but we were always committed to finding the limitations, defining the boundaries and developing from there. We were also able to benefit from Doyle's investment in Sanya's Volvo 70 program and Mike Sanderson's experience in the IMOCA and Volvo world."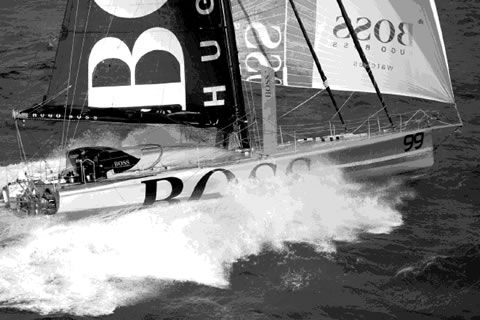 Credit: Christophe Launay | www.sealaunay.com
"We are looking forward to continuing working with Alex Thomson Racing," said Bouzaid. "We have lots of new ideas to move forwards with and the team are great to work with in that respect. They are always open to innovation and new ideas." Thomson too is looking to the future. "The great thing is we are not stopping here, there is always more we can do and I am looking forward to debriefing with Doyle Sails NZ and refining the product further so that all of Doyle's customers can benefit from the investment we have made. My sincere thanks to everyone at Doyle for their commitment to our project and helping me attain third place in the world's toughest sporting event," Thomson concluded.
To find out how Doyle Sails can help with your next challenge, contact your local loft.