Courtesy of the International Maxi Association.
After a disappointing end to the 2000s, as Team Director of Keith Mills' Team Origin, unsuccessfully attempting to challenge for the 33rd America's Cup (ultimately a Deed of Gift match solely between BMW Oracle Racing and Alinghi), the 2010s have been good to Sanderson both as a sailor and as a businessman.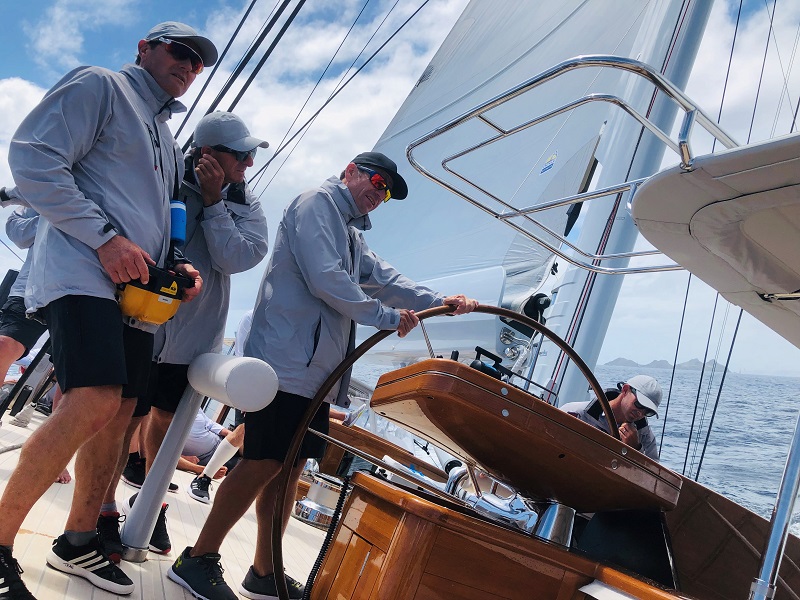 For the last decade, Sanderson's main grand prix sailing has been in the Mini Maxi/Maxi 72 fleet, joining Hap Fauth's Bella Mente team in 2011 aboard the team's second race boat, a Reichel/Pugh 69. In a fairly dramatic episode, during that year's Cabo Race (from Newport Beach, CA to Cabo San Lucas, Mexico) they dismasted and it was all hands to the pumps to get Hall Spars to build a new rig in just two months. But they succeeded in doing this and with their brand new spar they went on to win the Transpac.
Fauth's third yacht of this size was his most successful Bella Mente – a Judel-Vrolijk 72. Fresh out of the box she won the Rolex Mini Maxi World Championship in 2012 and then, following the formalisation of the Maxi 72 class, plus some considerable development of boat, she won back to back Rolex Maxi 72 World Championships in 2015 and 2016. "We did a whole new aero package for it and a new keel and built a new rig and put those fast sails on it!" Since then Fauth has acquired his fourth race boat, a Botin Partners design which showed moments of promise last season and is due back on the racecourse, it is hoped, this season.
As a fan of offshore racing, Sanderson says it is a shame that Maxi 72s have become increasingly optimised for inshore racing, but they remain great boats. "They have been very successful in the Caribbean 600s, Fastnet and Bermuda races – the 600 mile classics. They are amazing to race: They're fast – you're doing 11+ knots upwind and into the 20s downwind, but what I most like about them is that you really do things properly – you've got enough guys, enough pros, enough practice days – so they're campaigned well. A race with eight Maxi 72s or even five, is impressive, a really good test of very well sailed boats pushed hard."
But with all the Maxi 72s fleet now racing out of class, where is it all going? Sanderson looks back to the previous hiatus within maxi yacht racing and sees this just being par for the course. "Back in the Kialoa/Condor/Windward Passage days when they managed to get six or seven beautiful IOR boats out racing, all of a sudden Bill Koch builds Matador and wins everything and kills the class. Then with the ILC maxis, Sayonara comes along and more or less by just doing everything a bit better, Larry [Ellison] wins everything, the other owners get a bit miffed and that disappears. We've also seen it in the Wally fleet, and big Swans, etc. Trying to get maxis owners all to do the same thing is a bit like herding cats, but it just goes through cycles.
"The good thing about the 72s is that they are still, especially inshore, very competitive racing in an open IRC fleet. So we're really looking forward to turning up with Bella Mente, well campaigned, well sailed, beautifully maintained, to race whoever wants to race us under IRC.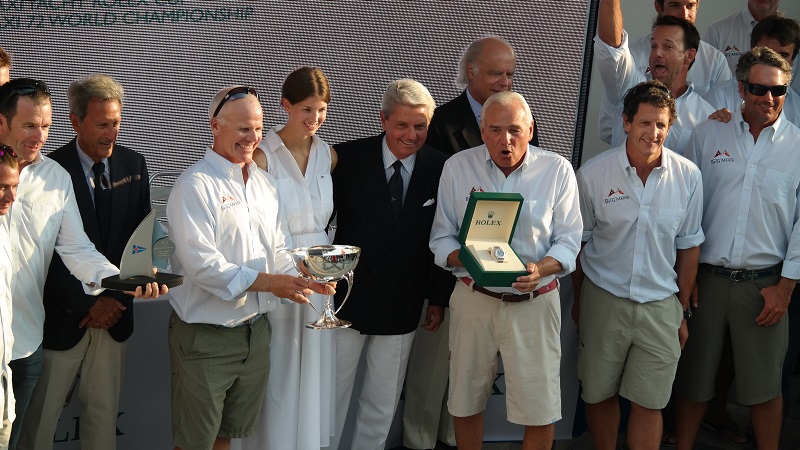 "In my opinion, the last two Maxi Yacht Rolex Cups where our rule hasn't been so tight, there's still been awesome racing. Like Jethou, after a couple of years at the back of the fleet, they lengthened their boat and when it was their turn, they won in the oldest boat in the fleet. And Caol Ila R went out of class with a deeper fin and she went to be a very competitive boat. When you speak to Hap Fauth or Dieter Schön or George Sakellaris or any of the guys who have been vying to win the Worlds for the last few years, if people are spending that amount of money to go racing they don't want too many restrictions – they are often are into the technology/development side of it and enjoy the science of trying to come up with cool stuff. So I think, we will have a bunch of 70 to 80 something foot, very well campaigned, very good IRC boats out when we next get to go racing."
However, while IRC does a good job creating a level playing field between different craft, Sanderson hopes it can keep up with the latest technology. "I think we want to be able to let people have canting keels and daggerboards and foils and powered winches and if they want to sail a 70 foot boat with only 10 crew they can – we've got to encourage that in my opinion."
The biggest revolution yet is set to arrive soon too – following the flying monohulls in the IMOCA 60 class and in the America's Cup, it is a case of 'when, not if' this technology transfers to maxi yachts. "You've only got to look at the latest America's Cup boats with the guys just peering over the top and no one hiking and the thing foiling – that's seriously cool. That technology will move into maxi yachts sooner or later. Imagine if the Team New Zealand boat turned up at the Maxi Worlds – although they might have to put some lifelines on and they'll have vanishing stability issues…! Just watching them go upwind is unbelievably impressive. I don't think there's any sailor in the world that hasn't been amazed at those boats – Team New Zealand included… We still don't know what the racing will be like, but a fleet race in them would be extraordinary."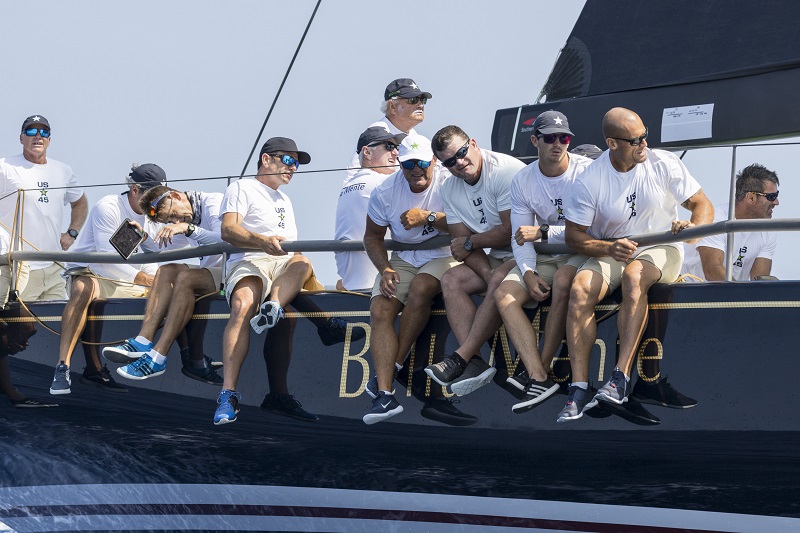 It has been 17 years now since Mari-Cha IV was launched and seven since Jim Clark's 100ft Comanche, which followed a similar, no holds barred approach. But since then foiling technology has revolutionized yacht design – so what would be the ultimate offshore monohull look like today? "Probably in the 70-80ft range, but on foils, either the IMOCA-style or who knows where the America's Cup family of boats will go. Looking back at it, Mari-Cha IV was obviously a big expensive boat to run and campaign but she was amazing value for money – she was stripped out and very basic and was built for significantly less than what it would cost to build a competitive Maxi 72 today. She was just a platform to get across the Atlantic as fast as possible and there was little finesse to her compared to the Banque Populaire or MACIF Ultime trimarans today which are just beautiful pieces of furniture."
While Sanderson still greatly enjoys being afloat, in recent years his time ashore has become busier since he became the owner of Doyle Sails. This started after his time at Team Origin when in 2011 he became the majority shareholder in Doyle New Zealand, the loft started by Richard Bouzaid and Phil Horton. It was only in 2017 that a deal was finalised to acquire the global brand. "Doyle Sails around the world was operating as independent units and it was going to take a lot of energy to formalise and restructure the group. Robbie and Janet Doyle are in their 70s and just didn't have the energy or drive to do that."
Since then Sanderson and his new team have attempted to rationalise Doyle Sails, from its position as the leader in heavy displacement superyacht sails at one end of the spectrum and highly specialised small one design keelboat sails from Jud Smith's Marblehead loft at the other. As Sanderson puts it: "Doyle was strong in the Star class, Ynglings, J/70s etc and the world of bespoke Dacron product and in the really big Perini Navis – the Perseus 3s, Roseheartys and Maltese Falcons, etc. On the superyachts, Doyles would build their cruising sails but as soon as the owner wanted to go racing he'd buy North Sails, so we had to change that if we wanted to be selling sails to the Hetairos, Niyalas, Winwins, etc."
Fortunately, they were able to collaborate with Quantum Sails and Southern Spars to develop the new aero package with which Bella Mente won back-to-back Rolex Maxi 72 World titles and subsequently this technology was adopted on Momo and Cannonball with similar results. In addition, Sanderson has succeeded in recruiting many well known A-list sailors as partners in local lofts. For example, Adrian Stead, Brian Thompson and Peter Greenhalgh are all in directors of the UK Doyle loft. Having a sizeable black book and track record with previous owners had also helped and in addition to providing sails for Wendy Schmidt's new 85ft Botin Partners racer Deep Blue, they are also equipped Larry Ellison's brand new Perini Navi "…which we've 'turbo-ed' it up – we couldn't help ourselves!"
As to how he anticipates this season panning out for the maxi fleet, Sanderson, like everyone else, is unsure. Swift prescient measures implemented by the government resulted in an impressively low number of COVID-19 related deaths in his native New Zealand (just 21 at the time of writing). "We were given two days notice to shut the loft down and after that, you had to stay at home unless it was for essential services.
"Without getting too philosophical, I don't think New Zealand will go back to how it was – a lot of corporations are going to look at their big, expensive office blocks and go 'hang on, we actually achieved the same productivity with Zoom conferences and home offices'."
Since then the New Zealand government has eased its lock-down, and last Tuesday the Doyle Sails New Zealand loft was operational again, albeit with 2m social distancing and no one there who didn't need to be. "To be honest, we can operate at a pretty high percentage, but it's been brutal on the business because everything just…stopped… and we don't know how quickly we can recover. Air New Zealand has said their target is to be back to where they were in four years time, but for us, it may be different. Certainly speaking to all my key clients, I've never known them to be so hungry to get back out there and, unlike previous financial crisis, this time I think it will be seen as very socially acceptable to spend money, to get the wheels of the economy turning again."
As to this season, if grand prix sailing is allowed to resume in Europe, Sanderson sees a dense period of grand sailing taking place in the late summer/early autumn which could include Copa del Rey MAPFRE, Maxi Yacht Rolex Cup, Les Voiles de Saint-Tropez and a rescheduled PalmaVela, but also with TP52 and 44Cup events shoehorned in too.
Autumnal racing in Europe could be exceptionally busy if this comes to pass.
(By James Boyd / IMA) https://bit.ly/2zrPXPQ