There were many rumors about the new SB 32.1 in advance – most of them true! This weekend sailor is quite different to most other 32 feet yachts and delivers on the sailing and non-sailing side. Doyle Austria had the chance to be involved in this project from the very beginning and is more than happy with the sailing ability of this yacht.
The sailing program is modern like the yacht itself and guarantees best sailing performance.
First published by Yacht Revue
Andreas Schöchl breaks with tradition at Mattsee and leads the shipyard into another age with the uncompromising Sunbeam 32.1by Roland Duller , published in YACHTREVUE 9/2021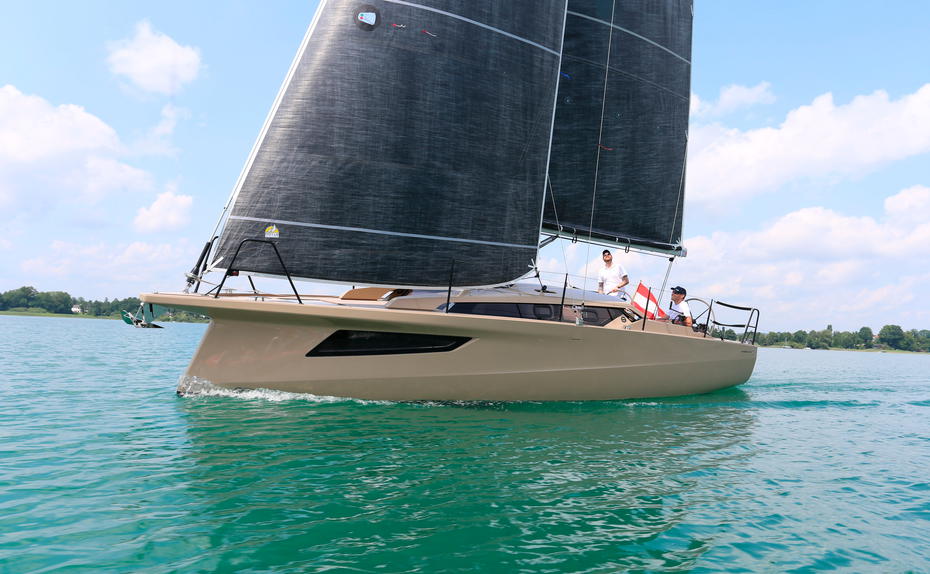 © Roland Duller
Cappuccino is an unusual color for a yacht. This is exactly why it fits the Sunbeam 32.1 like hot milk foam on espresso. The latest addition from Sunbeam Yachts is also unusual, maybe even more than that, namely the most radical new development in the genre of modern weekenders and daysailers. This is astonishing as the Austrian shipyard, which has been in existence for over 70 years, has so far relied on stability rather than innovation; The Schöchls were primarily known for high-quality yachts that were continuously optimized, but never initiated a revolution. Value was placed on timeless design and long product intervals – an approach that has proven itself over many decades. Sunbeam yachts are incredibly stable in value, used models are still traded at pharmacist prices. So why leave this path and take maximum risk with a completely new concept?
Restart
It has to do with a fundamental change in the company structure. For decades, the cousins ​​Manfred and Gerhard Schöchl headed Schöchl Yachtbau OG. The latter has been dealing exclusively with the leasing and rental of facilities since the beginning of the year, while the management of the shipyard, including all trademark rights, lies with Sunbeam Watersports GmbH, headed by Andreas Schöchl, Manfred's son, as CEO. The founding of the new company came as no surprise to insiders. The differences in opinion between Gerhard and Andreas about how the shipyard should be organized and how Sunbeam yachts should look in the future were irreconcilable. Nothing documents this better than the Sunbeam 32.1, For the development of which Andreas Schöchl tried new ways of thinking and broke new ground – even if he listened to his father and the designers at J&J Design when it came to crucial questions and thus benefited from a wealth of experience. The "young Schöchl" hired Gerald Kiska, an industrial designer for the first time in the history of Sunbeam Yachts. Kiska, who employs more than 250 people in his studio in Salzburg-Anif, has so far designed motor yachts for Frauscher and Marian; the conception of a sailing yacht was new territory for him.
Correspondingly relaxed, one could also say provocatively, he approached this task. The first question he asked in the collaboration was: What can a sailboat learn from a motorboat? Andreas Schöchl was not offended by this "blasphemy" but listened attentively to Kiska, who called for a new, customer-oriented approach to the topic. The product designer claimed that the dogma of the best sailing properties has outlived itself, because today's customers have completely different requirements for a boat than they did in the past. He doesn't want to subordinate everything to sailing, but primarily to spend a pleasant time on board, be it alone or with a crew. That made sense to the Neo shipyard manager and he therefore set out to reconcile Kiska's ideas with the nautical specifications of J&J Design.
Transfer of ideas
Hull number 1 is not only cappuccino in color, it also looks more like a futuristic rendering than a finished series yacht. The designed hull is primarily responsible for this. It looks the same on most sailing yachts, and there are selective differences because some have Chinese, while others do without the lateral tear-off edges. The Sunbeam 32.1, on the other hand, has given Kiska a kind of three-dimensional hull that has only been known from the motorboat sector until now. Wavepiercer bow, large hull hatch, spoiler lip running from bow to stern and the so-called flight deck with integrated bowsprit result in an unmistakable, sporty-looking combination with a splendid increase in space on deck – if you stand at the foredeck, you feel more like on a 40-foot yacht , not like on a 32. The cabin roof is called the X-Brace. The surfaces that are drawn aft on both sides over the side coaming act as a line cover, towards the front as an armrest and lawn boundary, and the X-Brace also provides shade and ensures a visually tidy cockpit.
The electrically extendable bathing platform is also innovative.
You can read the entire driving report in Yachtrevue 9/2021, at the kiosk from September 3rd!
Read more from Yacht Revue here
ABOUT DOYLE SAILS // As sailors, our obsession with sailing connects us to the water. The water is our playground, a sanctuary where we seek enjoyment, a competitive playing field where we race; it's sometimes our home and always a place that unlocks our sense of adventure wherever that adventure might take us.
Our obsession with sailing takes us to every corner of the world and onboard every yacht. We become part of teams, share in the adventures of friends and families, sharing our knowledge and experience with those who have the same passion for sailing as we do. Sailing is in our DNA, where the water unlocks our sense of adventure. We are the custodians of a legacy that has been supporting sailors for close to four decades, and while our world changes around us, our commitment to sailors who seek the same enjoyment and adventure as we do hasn't.
From our sailors to yours, we are your experts in sailing. Your adventure starts with Doyle. By sailors, for sailors.