by James Boyd / International Maxi Association. Full article found here
Dario Ferrari's Cannonball won the Rolex Giraglia offshore race by 17 seconds. First in the maxi class (IRC Zero), and at one point looking strong for the overall IRC prize was Dario Ferrari's 75ft Cannonball; unbeaten among the maxis across the whole event.
With Vasco Vascotto calling tactics on Cannonball, team strategist and project manager Michele Ivaldi described their race: "We had a very good start. We were leading for a long time. We were very happy coming into the Giraglia because we were fourth or fifth overall with the other 72s way back. Then there was a massive parking lot. We got back to Magic Carpet and Black Jack, but then all the other 72s arrived. It was chaos! There was no wind. A few boats were only a length from the Rock with no steerage. We all sat there 15 minutes to an hour.
"Getting away from the Rock, we aimed for Genoa but going low, anticipating the northerly. By dawn North Star and Vesper were close to us – as we owe them time we had to do our best. Everyone did a fantastic job squeezing them. We found more pressure and more lift and in the last 25 miles put a lot of distance between us and Vesper."
According to Ivaldi, owner Dario Ferrari was delighted: "He really wanted to win the Giraglia, because last time on Cannonball they were leading until the end and Francesco de Angelis and myself were on Momo and beat them. He wanted to fix that!"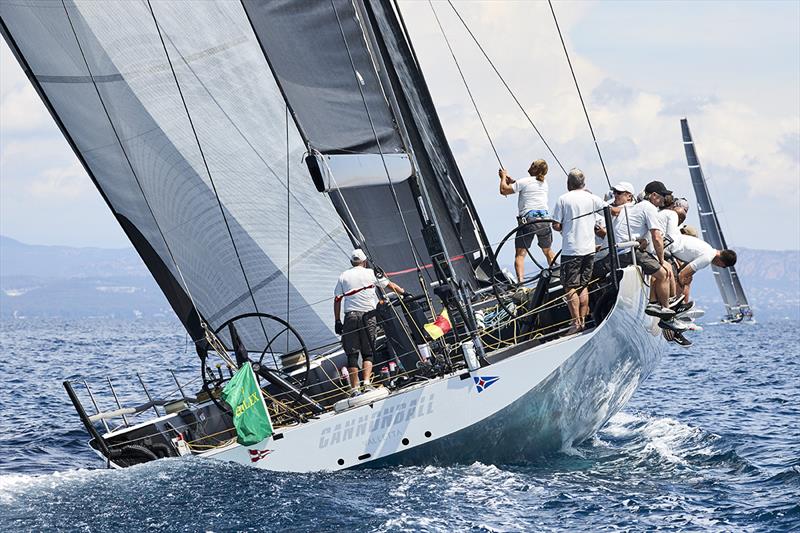 Remarkably Cannonball finished just 17 seconds ahead of Jim Swartz's Vesper under IRC. "That is fantastic," continued Ivaldi. "I think the 72s are the best class for this kind of racing under IRC."
While Cannonball is substantially modified from her original Maxi 72 state, lengthened to 75ft and water ballasted, Vesper remains in class. This was owner Jim Swartz's second Rolex Giraglia: "I enjoy the atmosphere and the competitors. I am not a super fan of light races as the park-ups are always a roll of the dice. Teams like Cannonball have this down to a tee so to come close to them is a huge achievement… 17 seconds is amazing if you think about the 100 decisions you made along the way. That makes this racing so fascinating."
For Vesper tactician Gavin Brady, this was only his second Rolex Giraglia too. He admitted he didn't feel comfortable with the course, so for research he had watched previous Rolex Spirit of Yachting videos. This had paid towards the finish: "Cannonball had us on time so there was no point in following them. Six out of eight times you want to come in on the right side… So we made a last ditch effort and got a split from them and made a nice big gain."
For the offshore Vesper went light: "We only sailed with 15 and only one jib and spinnaker. If something had broken we would have been in trouble. Peter Blake would have turned in his grave!"
Cannonball won the Rolex Giraglia's maxi class overall prize, combining results from the Sanremo to Saint-Tropez offshore, the Saint-Tropez inshore races and finally the offshore back to Genoa, ahead of North Star and Vesper, despite having to carry DNC points for not participating in the first scoring leg form Sanremo.
In his capacity as IMA President, de Froidmont commented of the Rolex Giraglia: "The maxi fleet here is amazing. It is growing both in number and quality. The level of the fleet is very strong now."
Organised by the Yacht Club Italiano in collaboration with the Yacht Club Sanremo and Société Nautique de Saint-Tropez, Rolex Giraglia's offshore race is the fifth of seven events in the International Maxi Association's 2022-23 Mediterranean Maxi Offshore Challenge that started with last autumn's Rolex Middle Sea Race and will conclude with August's Palermo-Montecarlo. The offshore race featured 27 maxis among 155 starters.
The IMA Mediterranean Maxi Offshore Challenge continues with its final two events the Aegean 600 concluding with August's Palermo Montecarlo.
For more information about the Rolex Giraglia visit www.rolexgiraglia.com.
ABOUT DOYLE SAILS //  Doyle Sails strives to deliver success through high-performance, high-quality, custom sails that continue to redefine the boundaries of sailmaking technology and innovation; whilst connecting sailors to inspire, support and encourage sailing.
Our obsession with sailing takes us to every corner of the world and onboard every yacht. We become part of teams, share in the adventures of friends and families, sharing our knowledge and experience with those with the same passion. Sailing is in our DNA, and we are the custodians of a legacy that has been supporting sailors for four decades and counting.