Shaun Lane and Quentin Stewart's Lazy Dog is both 2022 MC38 season champion and three-time back-to-back Australian champion after sealing the national series on Sydney Harbour
Article by Lisa Radcliff of the MC38 Association.
"We had good teamwork by the end of what is our fifth class nationals," Lane said. "There was a good mix of results this season. What we did well was claw back from nowhere. Every race and every place counts in this fleet. The class is in great shape; there's nothing in the country like what we have built," Lane added.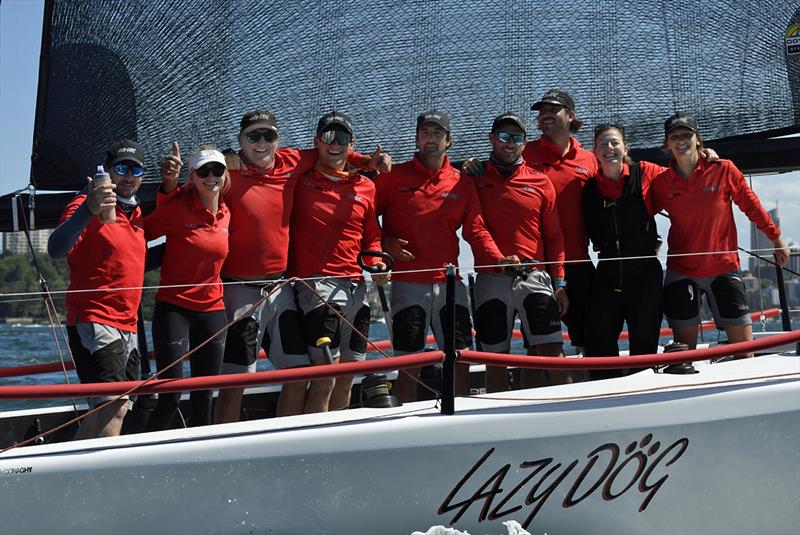 With the championship victor settled at the end of race 10 on Sunday November 6, attention turned to Infotrack GO (Christian Beck), Infotrack (Indy Beck) and Swish in the battle for silver in the deciding two-lapper, from Taylors Bay, Mosman up to a top gate adjacent to Watsons Bay on the eastern shoreline.
A handy third for Swish and sixth for Infotrack GO reordered second and third place on overall standings while Ginger's late charge – bullets in race 10 and 11 – moved owner Leslie Green and his longstanding one design comrades into fourth overall, a point off third.
"Lazy Dog is always a tough boat to beat – coming into the regatta we thought we might have had a chance," Proud said. "We were fourth last year, so we are pretty happy. It feels good to be on the podium. Billy Sykes did a fantastic job putting our crew together and they all got on with the job. We kept the heat down this weekend, and it worked out for us."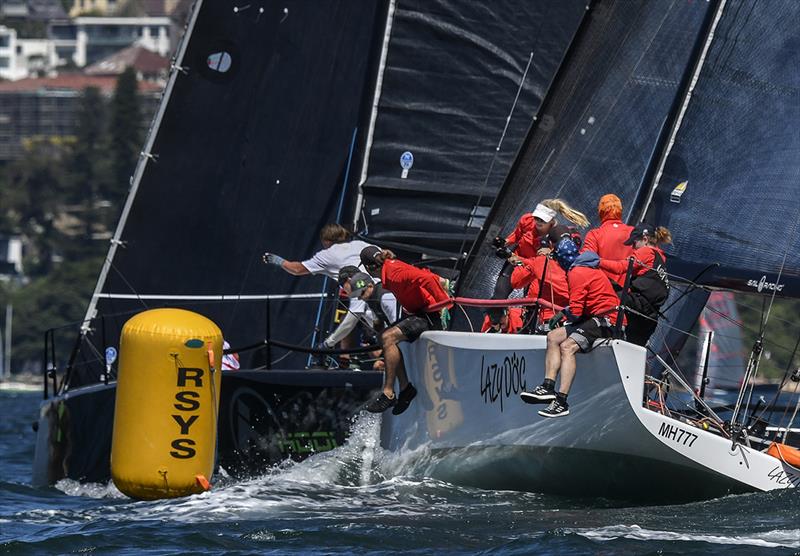 On the number of MC38 seasons it takes to mount a top tier nationals campaign Proud added: "It takes a few seasons to get the moding right in these boats, particularly downwind. They are sensitive to trim and downwind heel. If you don't get it 100% right, three-quarters of the fleet will pass you."
Sydney staged a rare three days of perfect dry spring conditions, 8-13 knots of ENE breeze and sparkling sunshine for the 11-race no drop regatta that signals the end of another busy calendar of racing between the harbour and Pittwater. Nine MC38s competed at the championship and the high performance one design fleet is holding strong for 2023.
The class thanks the Australian Championship host club, Royal Sydney Yacht Squadron, and RSYS race officer Rob Ridley and his team, plus season hosts Middle Harbour Yacht Club, the Cruising Yacht Club of Australia, and the Royal Prince Alfred Yacht Club.
The list of MC38 regattas planned for 2023 is available on the class website.
ABOUT DOYLE SAILS // Around the world, Doyle Sails has over 500 sailmakers in 46 different locations, all equally passionate about sailing – living and breathing our ethos 'Global Leaders and Local Experts.'
As sailors, our obsession with sailing connects us to the water. The water is our playground, a sanctuary where we seek enjoyment, a competitive playing field where we race as competitors; it's sometimes our home and always a place that unlocks our sense of adventure wherever that adventure might take us. Behind every adventure is a Doyle sailor who shares this same obsession as you. We put your journey at the very heart of what we do to deliver the ultimate enjoyment and performance, powering our constant need to push the boundaries in sail design and innovation, to reimagine sailing.
From dinghies, club racers and cruising yachts through to Grand Prix campaigns and Superyachts, we are your experts. Meet our team here.